Tonight brings the brightest moon of 2020!
Tonight's Supermoon is also known as a "Pink Moon," the first full moon of spring. Native Americans named this moon because of the pink phlox that blooms around this time. It has special names in other countries too such as Bak Poya, Egg Moon, Full Sprouting Grass Moon, Growing Moon or the Full Fish Moon. STEM Alert: Not all Pink Moons are also Supermoons. A Moon has to come within 90% of its closest approach to Earth (or 224,865 miles) to be formally defined as a Super Moon.
STEM Alert: The Pinkish hue (sometimes more orange if you are in a city), is from photons passing through dusty particles in the Earth's atmosphere. Earth's atmosphere of oxygen and nitrogen filters the bluer wavelengths (through refraction) of moonlight so your eyes may see more of a pink tone. Full moons also have some tide effects.
If you need a break from being inside, tonight's the night!
If you would rather view the Pink Moon virtually, here are some fun resources:
Astronomy Briefing https://youtu.be/WNlgftoWaHI
April's 'pink moon' is the biggest supermoon of 2020.
Click on the linked text to learn how to catch Tuesday's 'pink moon, the biggest supermoon of 2020.
#PinkMoon #PinkSupermoon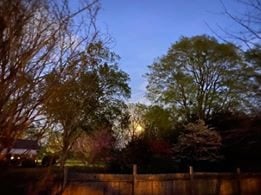 STEAM Alert: What's in a Name? The Almanac pairs the other named moons with their date of appearance:
Wolf Moon – January 10
Snow Moon – February 9
Worm Moon – March 9
Pink Moon – April 8
Flower Moon – May 7
Strawberry Moon – June 6
Buck Moon – July 5
Sturgeon Moon – August 3
Full Corn Moon – September 2
Hunter's Moon – October 1
Beaver Moon – November 30
Cold Moon – December 30
There is also a connection between the Pink Moon and Nick Drake.