CCE Finland: Panel Discussion and Twitter Chat on Assessment
---
It is a career highlight to serve on a panel discussion addressing assessment.
My Basic Question regarding assessment is "How Do We Know if They Are Getting Better at Learning… and we do we blame if they Aren't?"     
🙂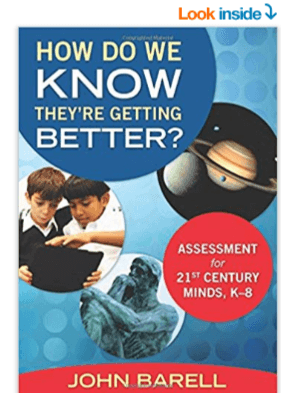 My question comes from my colleague John Barell who has written a book by this same title.
I asked this question to my national teacher professional groups and I received answers from many of them.
How do we know if we are sufficiently preparing the students of today for the challenges of the 21st century? Inquiry-based education leads to problem-solving and provides specific steps for pre, formative and summative assessment that informs instruction of 21st century skills.
Included in Dr. Barell's book are examples that show how to use today's technology in the classroom and how to use inquiry to develop and assess students' ability to:
Think critically and creatively
Become self-directed learners
Adapt and become resourceful
Develop a sense of leadership, responsibility, and global awareness
Click this link for more information about Dr. Barell's book
My PLN was a great resource of information. I received information, advice, and resources from educators in 10 states. Special thanks to Dr. Joyce King who provided so many timely resources.
One thing that stood out to me was the amount of summative assessment that currently occurs in U.S. classrooms. Specifically, testing days in the U.S. average 50 days out of 180 of state-standardized events plus 10 teacher-generated summative course-specific events per semester (20) for a total of 70/180 = 39%. The 39% figure does not count other forms of assessment such as formative assessment, reflection, student self- assessment, etc…
As educator Dr. A. Cross notes,"there is too much testing- and we are assessing the wrong things! The state level tests in Tennessee were given too early in the year for teachers to cover everything that was assessed for that grade, but then the results didn't come back for months (over summer) so that data wasn't used to improve teaching and learning- more as a punishment for educators when students scored poorly"-and- "they have a test as they leave grade 5 that heavily determines which middle school they can get into. Parents hire private tutors to give their students a leg up, which artificially inflates scores."
As educator I. Ramirez explains, "

we just find out that our school in Clark County will be rated (range 1-5 star school) base on student ACT performance. Therefore, our school system regarding standardized testing must change if we want to accomplish a 5 star rating. From now on students (freshman- Junior years ONLY) will be practicing 3-5 times per year taking a computer based test called CERT (CERT (College Equipped REadiness Tool). The output data from the student's results will give us a prediction of how we're doing as a school. In our math classes, for example, our warm up activities are ACT practice released problems. We want our students to get familiar with standardized testing vocabulary. We want our students to be considered proficient. In Clark County, ACT average composite scores are about 18 points. To be considered proficient, students must score 22 or more on the composite results. We know it will be a great challenge, however, myself I'm excited to fase this challenge. We know it will be a process to switch around from the low proficient to the proficient status, and also we know it may take some time to accomplish this academic goal, 

because we can do vertical alignment instruction. What I think is the real challenge is to create a culture of students interested to do well on these standardized assessments.
Upon reflection, educator Dave P. shared that "

New York State implemented a 'teacher assessment program' and if teachers do not pass it they are put on probation and can be removed the following year if they do not show improvement – regardless of tenure. 

What I found interesting about this is that

student assessment involves regurgitation of facts on multiple choice tests, even if the test includes open ended questions or work there is always a MC section.

The teacher assessments require the observation of student involvement in the learning process, open ended questioning, Bloom's Taxonomy, and other measures that go beyond the mere memorization of facts… [this] 

shows the state understands students need to do more than memorize facts, but this doesn't match up to student assessments. 

Dave continues with this observation, "another part of the "teacher assessment" was that your students show "growth" over the year. So, to do this many teachers give impossible ("impassible") BENCHMARK tests at the beginning of the year and compare the results on the final exam. Not exactly supported by science. My point; it's all a game and depending on how you play it you can win without trying.
Jean H. provides a tidy summation and call to action.
"When instructional practice is in alignment with the science behind the assessment, students and teachers can greatly benefit. That is where true differentiation of instruction that is impactful and uniquely perfect for each child is possible.

..currently, that is about as rare as a unicorn."
Special thanks to these helpful folks:  John Barell, Dr. Joyce King, Dave P., Dr. Ashley Cross, I. Ramirez, Jean H., Mark Barnes, Sylvia Ellison, Lev Vygotsky, Donald Schon, and Paulo Friere.
Check the blog tomorrow for my Top Ten Take-aways from the Panel Discussion.