Participating in an Online Community~Week 2, Post 1
Disclaimer: This post is part of course requirements following this assignment: Extend your identity in the direction of your career
path and participate in a new online community. Interact online using your projected identity for at least six weeks. Think deeply about identity and learning and blog twice a week about your experience. Take time to analyze the meaning, power, and constraints of the community on your learning.
~~~
Participating in an Online Community~Week 2, Post 1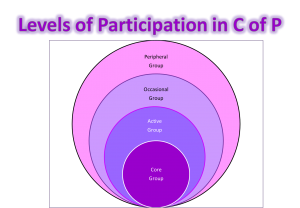 Today's activity is all about nomination and identity. Etienne Wenger defines Identity as "Learning by Becoming."  I nominated myself to move from "new novice" status to "apprenticeship" status in my CoP Sci-Fi and Fantasy Book Club discussion group. I would like to become an apprentice, or, to fit Wenger's model label, part of the occasional group.
Gladwell writes that people need 10,000 hours of Practice to achieve expert status. I have only been a member of my CoP for less than a month so I maybe have ten hours of practice. I am applying a social media construct of Moore's Law to my participation. If information doubles every 18 months, then surely identity role status should progress with as much exponentiation as well.
I decided to participate in a new Discussion Forum. I chose the "Give Us Your Themes" forum begun by Zena*, whose identity is "The Zaphod." Zena began this thread in April, 2013 asking for the expertise of the group:
"Ok, so it's not always easy coming up with a good list of themes every  month for people to vote on. So we want to hear form our awesome members what themes you like. We will use this thread to build a master list of themes. Each month we'll pick on the the themes for the group to nominate books for. We want to reduce the amount of polls down to just the book pick polls…This thread won't be closed. I'll make a second post and keep updating it as we get more themes given as well as marking them off as we use them. You don't have to give a reason for the theme and you can submit multiple themes. Just mark whether it's sci-fi or fantasy. Zena, The Zaphod
Activity responses were most concentrated in the first days after Zena's post with 35 themes offered. I did not see the theme I was considering as my theme addition.  Posts continued with a periodic suggestions until the last post on September 6, 2013.
On August 26th, the Discussion Board members had to wrestle with the question of whether it was ok to copy themes from another group. Within 90 minutes it was decided in the affirmative. Now the list expanded to include an additional 18 themes. I still did not see the theme I was considering as my addition. The last theme which suggested Magical Realism was posted on September 6.
Since my theme was not listed yet, I decided to venture forth from newbie-ville and raise my virtual hand. I posted:
"Still new to the group, but I would like to add the theme of "Creative Problem Solving" in the Science Fiction section. Thanks!"
Short, sweet, concise with only a hint of forced gratitude at the end.
~~~
Book Source: Wenger, E. (1998). Communities of practice, learning, meaning, and identity. (1st ed. ed.). Cambridge Univ Press.
*Zena, The Zaphod is a pseudonym