This post is part of course requirements for Dr. Farzin Madjidi, EDLT724.20, Ethics and Personal Leadership.
Palliative Care is a healthcare option that specializes in the relief of pain, symptoms, and stress of a serious and extended illness. Palliative care recognizes the important role of caregivers and  offers  physical, emotional and spiritual support for improved quality of life to patients and their families facing serious or chronic illnesses. Palliative care may be helpful for those patients suffering with pain and symptoms associated with serious illness, difficult medical decisions or nutritional problems caused by progressive illness problems related to emotional and spiritual suffering.
"Palliative care is appropriate at any age and at any stage in a serious illness. It can be provided together with curative and disease-directed treatments," said Dr. Victor Hirsch, medical director of Pathways, a palliative care center in Abilene, Texas.
Patient- and family-centered palliative care optimizes quality of life through anticipatory, preventative, and treatment options such as pain management.  Palliative care is different from hospice care; anyone with a serious, life-limiting or chronic illness can benefit from palliative care, which can extend from a few hours to several years.
"Many people confuse palliative care with hospice care," said Hirsch, former medical director of a cancer center. "Palliative care is different from hospice in that palliative care is given at the same time as life-sustaining or curative treatments; whereas hospice is only for patients who have chosen to forego life-sustaining treatments. Palliative care is for patients who are at any point in their illness trajectory, while hospice is for patients who have six months or less to live if the disease runs its usual course."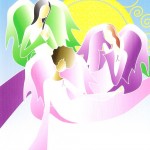 In the palliative care continuum, physicians refer their patients, preferably at an early stage of treatment. An interdisciplinary team including the patient, their family, caregivers, doctors, nurses, social workers, chaplains and other specialists work with a patient's primary physician to provide an added layer of support for symptom management and support.
For more information, visit these online resources:
What is Palliative Care? http://www.cfah.org/prepared-patient/plan-for-your-end-of-life-care/what-is-palliative-care
GeriPal: a geriatrics and palliative care blog http://www.geripal.org/
Palliative in Practice: http://palliativeinpractice.org
The John A. Hartford Foundation: http://www.jhartfound.org
The American Federation for Aging Research: http://www.afar.org
Palliative Care Picture Source