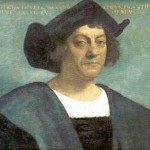 Columbus Day is a U.S. holiday that commemorates the landing of Christopher Columbus in the New World on October 12, 1492. It was unofficially celebrated in a number of cities and states as early as the 18th century but did not become a federal holiday until the 1937. For many, the holiday is a way of both honoring Columbus' achievements and celebrating Italian-American heritage.
Themes of exploration, risk, and discovery provide great connections.  I also like the tie-in of fortuitous mistakes, since Columbus originally thought he had landed in Asia. Sometimes you can be successful, even if you miss your target by 10,000 miles!
This website from History.com has timelines, interactivity, and interestingly brief videos. Some of the ads on the side of the pages may distract students so, if your school does not have ad-blocking filters, choose the link you would like to emphasize and project that  for students. History.com: Columbus Day
Happy Columbus Day!