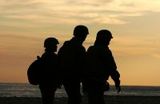 Lessons of Liberty
The "Lessons of Liberty" initiative is an opportunity for American students to learn more about our country and its values, as well as the people that have been called upon to defend its freedom.
How Schools Can Participate In "Lessons of Liberty " 
Schools will have access to a multitude of resources for participating in the "Lessons of Liberty" initiative through the Department of Veterans Affairs and the Department of Education.  Schools, educators, parents, and students can visit the Department of Veterans Affairs Web site at www.va.gov/vetsday to find classroom materials and curricula, ideas for activities, and resources for getting in touch with a veteran in their community. Additional ideas may be found on the Department of Education Web site at www.ed.gov.
Leading veterans organizations — including the Veterans of Foreign Wars, the American Legion, and the Military Order of the World Wars — are supporting the Lessons of Liberty effort and can be reached through their Web sites.  A directory of veterans organizations is available at http://www.va.gov/vso.
The " Lessons of Liberty" initiative can be continued throughout the year through a variety of activities, including:

For Elementary and Middle School Students:

Read books about American history and government
Learn about outstanding leaders in America, past and present
Visit a historic site, such as a battleground
"Adopt an older American" and become a friend with a veteran
Participate in the "Friendship through Education" Initiative

For High School Students:

Register to vote
Pledge to mentor younger students on the "Lessons of Liberty"
Volunteer in community organizations
Organize student public service projects
Participate in the "Friendship through Education" Initiative

For Parents, Teachers and Administrators: