A fun, little game summary of the GLS conference which occurred last week (June 9-13) in Madison, Wisconsin. Click the picture to play and review!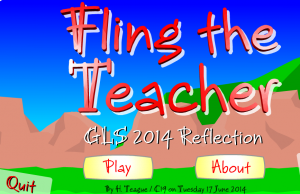 You can add a little game-based experience to your classroom or boardroom too!
You can create your own "Fling The Teacher" game (or choose from other games) by clicking over to the Content Generator website. In the classroom, invite students, working alone or in teams to compose questions and answers from a unit, lesson, or activity. These can be submitted to you in hardcopy format, or added to a Google document. The questions and answers can be copied and pasted right into the game form blanks. A few clicks and a couple saves  later and the Flash generator does its magic!
Use for review, biographies, historical events, experiment recap, scientific method, math computations and computational review, punctuation marks, state and world capitols–so many possibilities!