Today is NATIONAL SELFIE DAY
You've heard of art imitating life, but now tech crowds life!
Today, June 21st, is
NATIONAL SELFIE DAY
Yes, It's National Selfie Day! Since the 2014, promotion by DJ Rick McNeely, there's been a National Selfie Day, and on this day, nerds, luddites, and all mortals are encouraged to use their mobiles and digitals to take creative (appropriate) selfies and share them on social media at this hashtag:  #NationalSelfieDay
The word "selfie" is in the Oxford and Merriam-Webster Dictionaries! In 2013, the Oxford Dictionary named "selfie" as its word of the year! 
Here is my selfie of the word itself: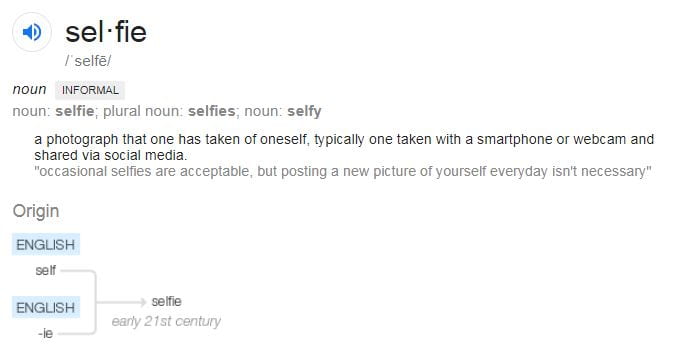 According to the National Day Calendar website, "while the act of taking a selfie may predate social media, smartphones and the word which is now in the Oxford dictionary, the popularity of taking these self-portraits and the ability to do so has never been easier. Selfie sticks and multi-functional camera phones make it all too easy to take these kinds of photographs as well as group selfies (aka groupies)."
For more information visit the National Selfie Day website.
See also this post from TV station WFAA, "It's National Selfie Day! Meet the North Texas man who got it started" at this link.