Our friends at ReadWorks sent a reminder that April is National Poetry Month. Inspire a love of poetry and improve your students' reading comprehension with our collection of poems at different levels for K – 12th grade.
K – 12 Poems & Question Sets for National Poetry Month
Each poem, or pair of poems, comes with an evidence-based question set that can help move your students to comprehension. Like all ReadWorks curriculum, they are based on the highest-quality research on reading comprehension.
Please consider moving within all grade area specifications—don't feel confined to stay just within your grade area. ReadWorks has chosen so many great poems that transcend grades and ages.
Have fun with poetry!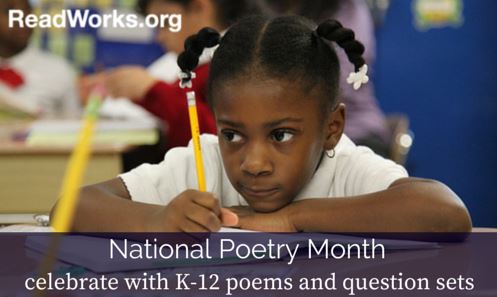 Additional National Poetry Month posts