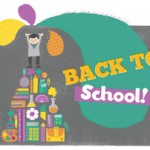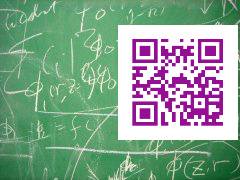 As you return back to school, consider adding QR codes to your bag of tricks Teaching Strategies.
QR codes are the little boxy graphics popping up everywhere.* Originally used in Marketing for Business, they are fun for students, parents, and those who love them. The purple QR Code on the left represents this blog! Although some school filters block all mobile devices, even employee owned, QR Codes extend learning beyone the school day and your classroom.
Use QR codes as a type of shorthand for content, as a shortcut for link URLs, as a mystery prize, even a staff development tool.
 I recently delivered a professional development training session powered entirely by QR codes scattered on posters in the hallway leading to the training room and around the room. Using their BYOD of choice equipped with a free, downloaded QR reader app, educators could satiate their curiosity at will. (This also circumvented the disharmony of posting presentation links, waiting for inaccurate/slow typists and smiling through diatribes along the lines of "this internet proliferation equals an end to civilization as we know it.")
Educators could also return later to the presentation with a click, negating the need for handouts. In my online courses, I created QR codes to represent our content chapters. Each week had a different QR code that relayed back to the online content. Next term, I am going to supply the codes and encourage students to save the resulting content in offline format.
* Complete QR Code Definition: QR codes, abbreviated from Quick Response Code, are the matrix barcodes readable by QR scanners, mobile phones with a camera, and smartphones.
Here is a sample of More Classroom Uses for QR Codes:
—12 Ideas for Teaching with QR codes from our friends at Edutopia 
—Always on the techie edge, Miguel Guhlin writes this great post on Updating an Image in a QR Code
—50 ways to use QR codes in the classroom at this google docs link
—Encouraging our youngest writers, Frances used QR codes and iPads with Kindergarten students. The students created stories using an app like Educreations, created a QR code and then their parents access their work with their iPhones.
—Kudos to Scott Hagedorn for this easy-to-implement application of QR codes in the classroom. He places the scanable block patterns on any poster or wall artifact that he wants his students to inquire about. One favorite: an old-school Bo Jackson READ poster (what fifth grader knows what Bo Knows?). Students scan the QR codes using the handful of iPads that Mr. Hagedorn has available in his classroom and then explore the topic.
—High Five to Megan V. who is using QR codes to add book trailers to the books in the school library. Have students create a video instead of writing a book report and then link the video to the book through a QR code. Her blog post covers the basics http://www.mediacastblog.com/book-trailers/
—Mark B. labels equipment and trolleys with QR Codes – linked to a document of contents
—Link the answers to math, science, grammar problems to a QR code
—Attach a QR Code to your email signature, pointing back to your website, blog, school webpage, latest fundraiser, weather report, etc…
—Place a QR code on your website and/or blog for easy retrieval. This is the one on our website.
—Check out this resource: Lisa Mims has curated great ideas at her ScoopIt site called Engaging Students Using QR codes
—Jason Dixon Jr. Chief Learning Officer at Tequipment, Inc. said, "If one simply thinks of a QR code as a printable hyperlink it may help to expand the possibilities. Here is a quick video our team created to highlight using and creating QR codes."
—No tech options? No worries! With lesson comparisons to fingerprints, Students can also draw their own QR code and provide a caption deciphering it or where their code would lead.
—My tech mentor, Linda Uhrenholt says: "As the Nike ads say "Just do it!" I started by exploring what others had accomplished. Heck, the first time I captured a QR code it led to a free cup of coffee at a new coffee shop. This was several years ago. The second time I captured one from a ketchup bottle!!! That led to a short video about a local community college! It's fun not only to view QR codes but create them! "
Here are  more great sites to use to create your QR Codes:
Create QR Code http://createqrcode.appspot.com/
Kaywa: http://qrcode.kaywa.com/
Creating QR Codes from the NYTimes
How to Create a QR Code in 4 Quick Steps
Enoy!